Razor Labs was honored by CB Insights for achievements in AI, and selected as the only one serving the mining sector.
This is the fourth annual AI 100 ranking, showcasing the 100 most promising private artificial intelligence companies in the world.
"It's been remarkable to see the success of the companies named to the Artificial Intelligence 100 over the last four years. The 2019 AI 100 saw 48 companies go on to raise $4.9B of additional financing and nine got acquired", said CB Insights CEO Anand Sanwal. "It has been gratifying to see that CB Insights' data-driven approach to identifying the top AI companies using patents, customer traction, investor quality, market sizing and more has become so effective at picking the AI winners of tomorrow. We look forward to seeing what the 2020 AI 100 companies will accomplish over the course of this year and beyond."
In addition to disrupting core sectors including healthcare, retail, and finance, the 2020 AI 100 companies are revamping the broader enterprise tech stack. These companies span the globe, from the US, UK, China, Israel, and South Africa, and are supported by more than 600 investors.
Through an evidence-based approach, the CB Insights research team selected the AI 100 from nearly 5,000 companies based on several factors including patent activity, investor quality, news sentiment analysis, proprietary Mosaic scores, market potential, partnerships, competitive landscape, team strength, and tech novelty. The Mosaic Score, based on CB Insights' algorithm, measures the overall health and growth potential of private companies to help predict a company's momentum.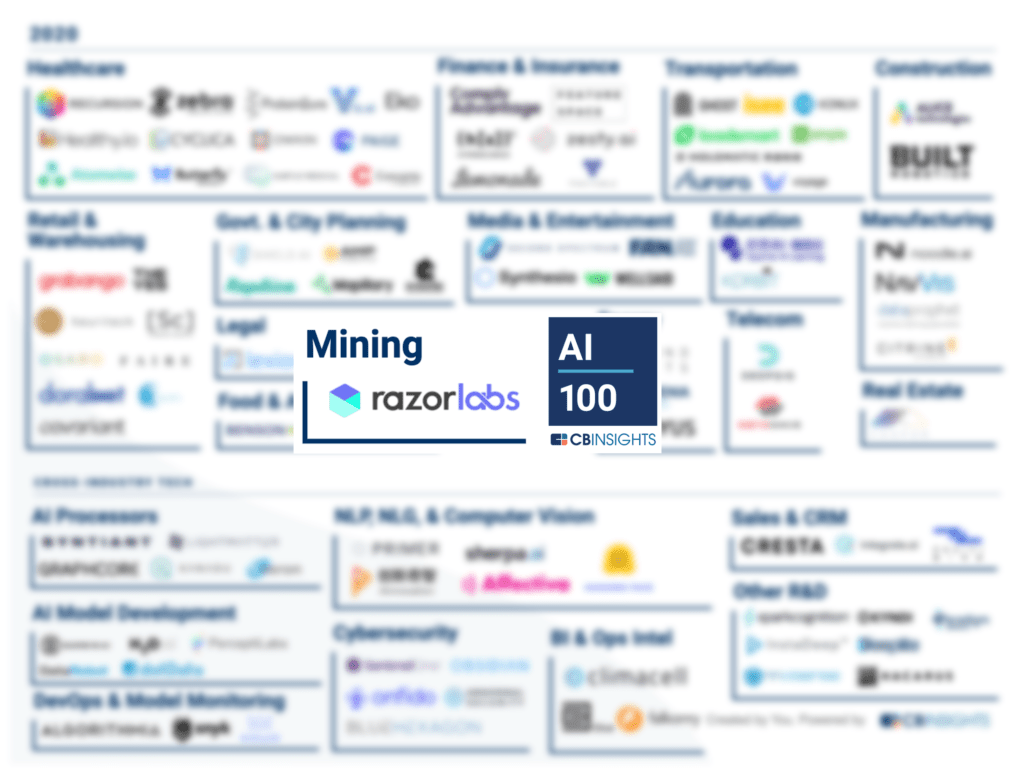 Quick facts on the 2020 AI 100:
As of the end of February 2020, these 100 emerging private companies have raised over $7.4B in funding across 300+ deals from 600+ unique investors.

10 unicorns (companies valued over $1B) are featured in this year's AI 100 cohort.

The list spans across various industries, including healthcare, retail & warehouse, and finance & insurance.

13 countries, such as Israel, Germany, Sweden, Spain and Japan, are represented on the ranking. The majority of startups (65%) are based in the United States.